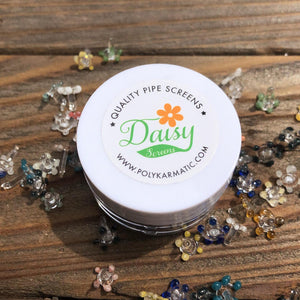 FITS MOST PIPE:

 The average size of the screens are about 1/4" (5-6mm) which fits in most pipes and Bowls.

 SAFE & REUSABLE:

 

These daisy screens are made from borosilicate glass which do not burn when using.  Metal screen often burn with fumes which can be toxic to health. Because these screens are made from glass cleaning them is fairly easy.

HANDMADE:

 Every daisy are hand blown by artisans thus every screen is unique and individual

AIRTIGHT JAR INCLUDED:

 

These 25 pack daisy are packet in cosmetic jar which makes for convenient storage.
Customer Reviews
07/16/2022
jackie S.

United States
poor customer service
i made contact requesting a coupon code for my first purchase with them and they didn't bother to even respond. i'm ol' school. that don't work for me. bye.
03/09/2022
DANA T.

United States
Broken Glass Screens
I received my product and it works great. What I'm not happy about,a lot of the screens are broken, bent,and out of shape to where they will not fit in the pipe. Out of the 25 only 7 of them actually fit and are usable. It would be greatly appreciated if I could get a replacement and I can send all the ones back that are not in working condition.
04/17/2021
Mel C.

United States
Glass screens work great. First time using glass screens. Fast ship, very happy!